Writing this week's blog from a slightly better spot than my first – on the sofa with my dog, Ruby, snoring on mylap. Bliss, apart from my wrist being in a splint so I've been slowed up a bit (splint courtesy of an over-excited doggie). I'm not sure which is making it more awkward to type – the splint or the 30kg chocolate lab draped over me. Anyway, Spring has sprung (although looking outside you wouldn't know it except for the brightly coloured bulbs battling the gusty winds and showers) which means we're full steam ahead in wedding mode…and enjoying the sunny days mother nature keeps teasing us with. Ideas are all on paper (with all this technology available, I still love scribbling notes and drawings into my favourite notebook, just seems a bit more permanent to me) and so now comes the fun bit of re-visiting the venues and making final planning tweaks.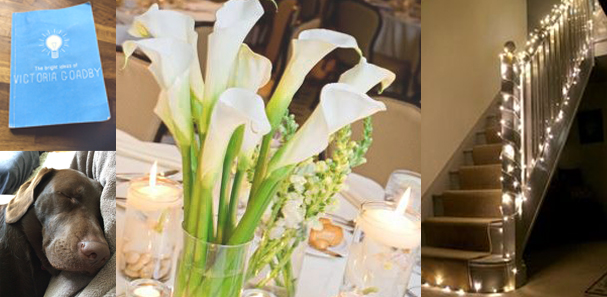 Choosing a venue is a bit like buying a house really – you should choose it for its location and it's seldom that you come across a place that is exactly decorated how you would like it. Those that are, usually come at a price..which is fine if you have a big wedding budget. For the majority of us who are mindful of the pennies and planning a DIY wedding, venue choices can' sometimes be limited. Just like you shouldn't say no to a great house because of the current owner's taste in decor, the same goes for venues! I've been to quite a few venues where you pull up outside and it looks fabulous, only to have your heart sink once inside as its just not what you had hoped for – a bit drab or old fashioned. Don't let that put you off. All you need is a good location, a layout that will work and great food – that's it! Look beyond what you may think are garish carpets and old fashioned drapes – with a few clever tricks, that won't break the bank, these will pale into insignificance once you've stamped your own style on the room. Transform a dark and unwelcoming staircase into something magical with fairylights and greenery (both very easy to do on a budget) and if you want to go the whole hog, add a couple of fairy-lit trees at the base of the stairs and some flowers or hearts in between the greenery. Even a boring ceiling can be rejuvenated with some very easy fixes like cheap paper lanterns and bunting…and it doesn't have to be your run of the mill village fete bunting – gorgeous pompon bunting will make you feel all warm & fuzzy and looks amazing! Add fairy lights wherever you can and combine with lots of glass to add even more sparkle and wonder. Result!
One of our upcoming weddings we're so excited about involves transforming a standard hotel function room into a sleek and stylish affair with calla lillies and touches of sea green. Lots of twinkling candles and glass to give a magical glow and fairy-lit trees in every corner to remove the room's hard edges. In fact, fairy lights everywhere! To top it all off we're busy constructing a gorgeous calla lily backdrop to sit behind the registrar's table which will look absolutely stunning and double up as a beautiful backdrop for photos of all the lovely guests later in the evening. I think this will be one of our biggest transformations and I can't wait to put it all together and post the photos!
Right, time to move Ruby and get on with my To Do list. Next week we'll be chatting a bit more about backdrops and how they can really give your venue the wow factor. Have a great week everyone and a very happy and relaxing Easter!
Victoria x
www.extremelylovely.co.uk
extremely lovely weddings, hampshire